Class Representation
Class Representatives in the Ross Volunteer Association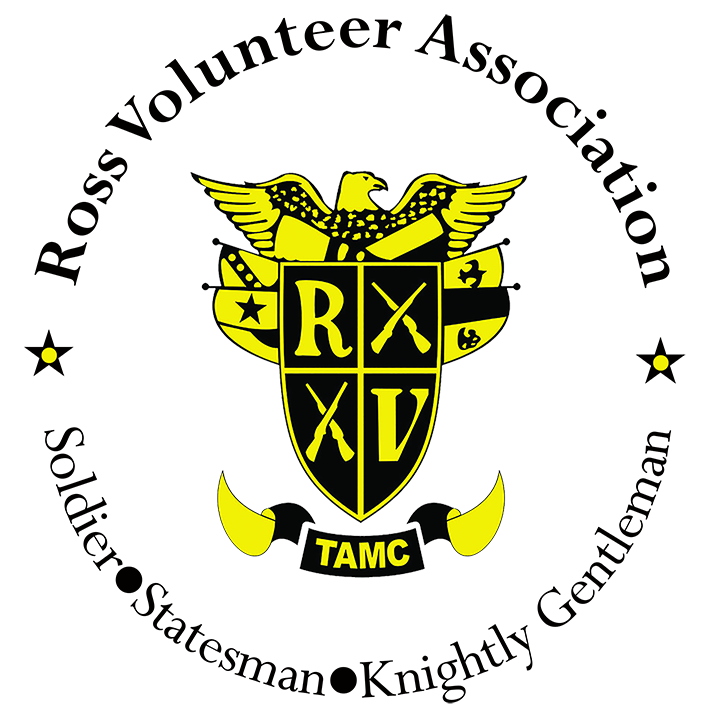 The goal of the RV Association is to have two (2) Class Representatives from each class. The primary duties of the Class Representatives are to:
Assist the Membership Committee by assisting in keeping contact information updated for classmates.
Serve as a "yell leader" for your class. In addition to communications being sent by the RVA Board, Representatives will attempt to keep in touch by sending informal information related to the RV Association and the RV Company to your RV buddies. This may involve anywhere from 2-4 emails a year.
Class Representatives are an extention of the Membership Committee. This may be a path for a Class Rep to become more involved with the day to day work of the Membership Committee.

Want to serve your class? Contact us at rva@corpsofcadets.org to be a Class Representative!
RVA Class Representative List
**2020 Class Representative List as of 07/11/20
| Last | First | Middle | Class Year | Telephone | Email |
| --- | --- | --- | --- | --- | --- |
| Thompson | John | W. | 1949 | H (972)-235-2713 C (214)-280-8649 | john.w.thompson@att.net |
| Class | Representative | Needed | 1949 | | |
| Woodall | James (Jim) | R. | 1950 | (979)-693-1129 | woodalljg@yahoo.com |
| Class | Representative | Needed | 1950 | | |
| Tumlinson | Richard (Dick) | R. | 1951 | H (316)-682-3854 C (316)-734-8885 | dicktum51@aol.com |
| Class | Representative | Needed | 1951 | | |
| Class | Representative | Needed | 1952 | | |
| Class | Representative | Needed | 1952 | | |
| Class | Representative | Needed | 1953 | | |
| Class | Representative | Needed | 1953 | | |
| Class | Representative | Needed | 1954 | | |
| Class | Representative | Needed | 1954 | | |
| Walker | Joe | R. | 1955 | (214)-350-4358 | joerwalker24@gmail.com |
| Class | Representative | Needed | 1955 | | |
| Noble | Marvin | J | 1956 | H (214)-363-3024 C (214)-207-3011 | m-cn@att.net |
| Class | Representative | Needed | 1956 | | |
| Peacock | James (Jim) | M. | 1957 | (979)-421-9207 | jim@seadiver.com |
| Class | Representative | Needed | 1957 | | |
| Smith | Charles (Charlie) | R. | 1958 | H (972)-432-5648 C (214)794-7061 | crsdallas@gmail.com |
| Wells | Curtis | S. (Sid) | 1958 | H (940)-246-1246 C (214)-675-0624 | sidwells13@outlook.com |
| Reddin | Thomas (Tom) | E. | 1959 | (828)-890-3909 | reddin59@bellsouth.net |
| Class | Representative | Needed | 1959 | | |
| Blaschke | Byron | C. | 1960 | C (979)-492-6460 | bcblaschke@outlook.com |
| Ghiselin | Richard | G. | 1960 | (281) 358-7032 | dghiselin@gmail.com |
| Kitowski | John | V. | 1961 | (817)-528-5068 | KitowskiJV@aol.com |
| Class | Representative | Needed | 1961 | | |
| Norton | David | J. | 1962 | H (281)-292-3875 C (281)-772-3471 | norton3@comcast.net |
| Class | Representative | Needed | 1962 | | |
| Gibbs | Jack | L. | 1963 | (713)-816-1923 | jacklgibbs@gmail.com |
| Stokes | George | B. | 1963 | H(979)-828-0099 C(979)-218-9333 | gbsflyer@windstream.net |
| Gregory | Charles | H. | 1964 | H (713)-464-2681 C (713)-894-9644 | chgreports@yahoo.com; cgregory@forrestmfg.com |
| Dickson | John | R. | 1964 | H (210)-495-9243 C (210)-710-1002 | olerme64@gmail.com. |
| Davis | Grayum | L. | 1965 | H (979)-774-4089 C (832)-368-7113 | gld1943@yahoo.com |
| Beckcom III | Edwin | A. | 1965 | (817)-236-1967 (817)-913-0480 | ejbeckcom@charter.net |
| Class | Representative | Needed | 1966 | | |
| Singleton | W. | J. (Jeff) | 1966 | H (972)-570-4424 C (972)-977-5144 | jeffsing@wjsing.com |
| Tower | Michael (Mike) | M. | 1967 | (281)-785-4228 | towermj@gmail.com |
| Cherry | Frederick | B. (Boyd) | 1967 | (979)-775-4050 | txbozo@aol.com |
| Beggs | Michael | R. | 1968 | (979)-703-4612 | mrbeggs@usa.net |
| Class | Representative | Needed | 1968 | | |
| Richards | Jim | M. | 1969 | (817) 470-0850 | jimrich1@sbcglobal.net |
| Kennedy (Vasilchin) | Douglas (Doug) | | 1969 | H (314)-822-7712 C (314)-323-5216 | doug.kennedy201@yahoo.com |
| Naccarato Jr. | Victor (Nick) | T. | 1970 | C (512)-797-0676 | nick.naccarato@att.net |
| Class | Representative | Needed | 1970 | | |
| Stockton | William (Bill) | R. | 1971 | (979)-777-6603 | bstockton71@gmail.com |
| Class | Representative | Needed | 1971 | | |
| Weynand | Michael | J. | 1972 | (512)-848-1450 | mike@weynandproperty.com |
| Class | Representative | Needed | 1972 | | |
| Flesher | Robert | G. | 1973 | C (832)-331-0017 H (713)-961-5255 | rgflesher@gmail.com |
| Jackson | Robert (RJ) | J. | 1973 | (254)-631-1830 (254)-647-3671 | robertjoe@agristar.net; rjj73@outlook.com |
| Weaver | Stephen (Steve) | L. | 1974 | (214)-215-7248 | aggie74sw@gmail.com |
| McNeely | Kyle | | 1974 | (979)-446-5522 | jkyle1974@aol.com |
| Brown | Craig | C. | 1975 | (281)-890-2378 (Asst. (Pam) | craig.brown@bray.com; pam.matthews@bray.com |
| Ramey | Glenn | H. | 1975 | (956)-682-9947 | grameyjr@gmail.com |
| Walker II. | Thomas | S. | 1975 | H (979)-703-7663 C (979)-209-9099 | walker7578@yahoo.com |
| McDonald | Daniel (Dan) | W. | 1976 | C (361)-545-0504 H(979)-704-2602 | aggiedan76@gmail.com |
| Buttery | David | N. | 1976 | (719)-243-4530 | dbuttery76@gmail.com |
| Probst | Mark | J. | 1976 | C (281)-380-9062 | mark.probst@wsp.com |
| Curley | James | P. | 1977 | (510)-717-3340 | jimcurley77@gmail.com |
| Ingenloff | Richard (Rick) | J. | 1977 | (210)-414-5835 | RickIngenloff@aol.com |
| Knoll | Harold | W. | 1977 | H (979)-589-2178 C (979)-255-7150 | unkie77hk@gmail.com |
| Duffie | Andy | C. | 1978 | (940)-886-8245 | duffie78@aggienetwork.com |
| Robinson | Alan | L. | 1978 | (512)-736-2913 | alrobinson78@prodigy.net |
| Johnson | Mark | H. | 1978 | C (210)-557-3472 | mljohnson77@suddenlink.net; johnson78@tamu.edu |
| Wurzbach | Earl | A. | 1979 | O(979)-690-4916 C (281)-703-8032 | ewurzag79@gmail.com |
| Tilton | Mark | E | 1979 | (540)-422-9449 | mark.tilton79@gmail.com |
| Dishong | Glenn | W. | 1980 | (512)-869-2738 | glenn.dishong@georgetown.org |
| Class | Representative | Needed | 1980 | | |
| Brantley | Roy | D. | 1981 | H (979)-690-8321 C (979)-777-8044 | roy.brantley@westwebblaw.com |
| Bonin | Michael (Mike) | E. | 1981 | (832)-483-8352 | michaelbonin@comcast.net |
| Hawes | Sam | R. | 1981 | (979)-450-5579 | thebasscolonel@gmail.com |
| Jaska | Matthew (Matt) | G. | 1982 | H (281)-392-8392 C (832)-808-4444 | mgjaska@gmail.com |
| Lovett | Steven (Steve) | T. | 1982 | H (979)-774-8943 C (979)-220-2104 | stevelovett@verizon.net |
| Burt | Jon | G | 1983 | H (972)-962-2300 W (972)-962-6000 | jonburtlaw@gmail.com |
| Class | Representative | Needed | 1983 | | |
| Clark | Dawson | | 1984 | (512)-636-9200 | dawsonclark@sbcglobal.net |
| Class | Representative | Needed | 1984 | | |
| Muller | Albert | Furney | 1985 | (832)-457-8561 | albertmuller@comcast.net |
| Maples | R. | A.(Alan) | 1985 | C (817) 657-6550 W (682) 253-4411 | general@amaplesllc.com |
| Lindig | Kelly | | 1986 | (214)-649-6009 | kellylindig@gmail.com |
| Fellers | Russell | | 1986 | (719)-377-1815 | rdfontheroad@gmail.com |
| Whitaker ? | Kevin | J. | 1986 | (469)-384-4848 | kevin@thewhitakers.org |
| Forrester | Miles | R. | 1987 | (806)-673-1039 | miles.forrester@yahoo.com |
| Class | Representative | Needed | 1987 | | |
| Butler | Kevin | | 1988 | (847)-948-5827 | kbutler6il@gmail.com |
| Groce | Lawrence (Larry) | E. | 1988 | (614) 204-8176 | lgroce3@gmail.com |
| Cruse | William (Bill) | J. | 1988 | H (210)-698-0227 C (210)-823-8138 | wjcrusedds@gmail.com |
| Stout | Pat | | 1989 | (832)-407-2763 | patstout89@gmail.com |
| Donovan (Wert) | Leslie | M. | 1989 | (979)-595-5870 | ldonovan_2@yahoo.com |
| Bradford | Noel | D. | 1989 | (979)-402-4898 | noel135@live.com |
| Albers | John | | 1990 | (301)-481-0929 | johnalbers@icloud.com; johnalbers@me.com |
| Dodd | John | D. (David) | 1990 | C (214)-923-3417 H (972)-393-4162 | maggrace@gmail.com |
| Gutierrez | Bill | | 1991 | H (979)-777-8018 | bill@hyflik.com |
| Garrett | Phillip | R. | 1991 | (979)-225-3310 | phillip@garrett-moving.com |
| Shurtleff ? | W. | H. (Hunter) | 1991 | H (979) 690-8616 | |
| Guerra | Frank | | 1992 | H (210)-930-2311 C (210) 569-3459 | fguerra@wattsquerra.com |
| Class | Representative | Needed | 1992 | | |
| Young | E. | B. (Brad) | 1993 | (832)-603-1846 | ebyoungusmc@yahoo.com |
| Class | Representative | Needed | 1993 | | |
| Sprinkle | David | D. | 1994 | (214)-675-9639 | wdwells94@yahoo.com; whisky_delta94@yahoo.com |
| Class | Representative | Needed | 1994 | | |
| Taylor | Brian | | 1995 | (210)-639-9275 | briantaylor@gmail.com |
| Heath | Jeffery (Jeff) | L. | 1995 | C (512)-815-7175 | jlh1995@yahoo.com |
| Mallory | Daniel (Dan) | C. | 1996 | H (903)-334-8511 C (940)-399-9835 | dcmallory@aol.com |
| Elizarde | Jesse | | 1996 | H (505)-652-4443 | el_lizard@hotmail.com |
| Harrison | Jim | | 1997 | | gator297@yahoo.com |
| Graham | Kyle | W. | 1997 | 214-763-2964 | kwmgraham@gmail.com |
| Pettitt | Alex | | 1997 | (512) 791-0078 | alexpettitt@gmail.com |
| Evans | Kenneth | | 1998 | H (210)-858-8301 C (618)-795-2592 | kenevans98@hotmail.com |
| Class | Representative | Needed | 1998 | | |
| Neff | Brandon | H. | 1999 | C (210)-464-5709 | brandonneff@gmail.com |
| Brieden | John | A. (Arty) | 1999 | (979) 690-1712 | abrieden@ssccpa.com |
| Reed | Will | C. | 2000 | (214)-533-7000 | willreed00@hotmail.com |
| Marden | Tyson | J. | 2000 | (720)-481-7373 | tymarden@hotmail.com |
| Schrutka | Mark | A. | 2001 | (281)-732-2162 | markschrutka@gmail.com |
| Hornbuckle | Jack | | 2001 | (972)-345-0957 | cptjack_01@hotmail.com |
| Leonard | John | Z.(Zach) | 2002 | 512-658-1042 | zachleonard02@gmail.com |
| Perkins | Justin | | 2002 | (979)-777-8049 | perkins02@aggienetwork.com |
| Williams | Clifford (Cliff) | F. | 2003 | C (936)-689-7035 | Cliffw03@yahoo.com |
| Class | Representative | Needed | 2003 | | |
| Murphy | Jonathan (Jon) | | 2004 | (806)-324-3022 | jon.murphy04@gmail.com |
| Class | Representative | Needed | 2004 | | |
| Newman | Timothy (Tim) | | 2005 | C (936)-697-3131 | timothyanewman@gmail.com |
| Moran | David | A. | 2005 | C (281)-731-0106 W (281)-893-1987 | davidaaronmoran@hotmail.com |
| Williford | Jeffery | | 2006 | (281)-639-9263 | williford.jeff@gmail.com |
| Pagenkopf | Robert | | 2006 | (361)-215-5736 | rpagenkopf@aggienetwork.com |
| Bearden | Robert | | 2007 | (817)-925-1782 | aggiebeardo@yahoo.com |
| Class | Representative | Needed | 2007 | | |
| Whitehurst | Zach | S. | 2008 | H (281)-732-2012 C(281)-732-2012 | zachary.whitehurst@aggienetwork.com |
| Class | Representative | Needed | 2008 | | |
| Griffin | John | C. | 2009 | (979)-492-7633 | johngriffin13@gmail.com |
| Bryson | Kyle | W. | 2009 | (210)-872-3148 | kylewbryson@gmail.com |
| Mohr | C. | R. (Ross) | 2010 | W (979) 845-7514 | c.ross.mohr@gmail.com |
| Hicks | Justin | Michael | 2010 | (281)798-3294 | Jmh10331@yahoo.com |
| Echols | William (Will) | | 2011 | (254) 522-1000 | williamechols12@gmail.com |
| Feltmann | Matthew | D. | 2011 | (830) 660-0160 | mattfeltmann4@gmail.com |
| Jarratt | Michael | R. | 2012 | (254)-231-6523 | mjarratt12@gmail.com |
| Esselburn | Justin | T. | 2012 | (330)-749-9722 | jtessel2008@yahoo.com |
| Lueders | Matt | | 2013 | (303)-241-2312 | mattlueders1@aol.com |
| Reed | Travis | | 2013 | (713)-503-6449 | travis.roman.reed@gmail.com |
| Benavides | Cai | | 2013 | (325)-212-2936 | caic.benavides@gmail.com |
| Powell | William | M. (Mike) | 2014 | (956)-334-6025 | williammpowelljr@gmail.com |
| Palomino | Cristina | | 2014 | (915)-474-6057 | cpalomino2014@gmail.com |
| Schoeneberg | Ryan | Andreas | 2014 | H (972)-377-4419 C (972)-816-2608 | rschoeneberg14@gmail.com |
| Sturdivant | Preston | Ryan | 2015 | H (979)-690-6479 C (979)-571-7312 | preston.sturdivant15@gmail.com |
| Scoggins | Garrett | Miner | 2015 | H (214)-350-6034 C (214)-505-3855 | garrettscoggins@gmail.com |
| Douglass | Timothy | J. | 2016 | (940) 231-1586 | timothy.douglass36@gmail.com |
| Bost | Brittain | Ethridge | 2016 | (979) 571-5813 | bost.britt@gmail.com |
| Hornbuckle | Zebediah | S. | 2017 | (253)-686-8550 | zebadiah.hornbuckle@gmail.com |
| Garcia | Roberto | E. | 2017 | (979)-319-5723 | rgg545@gmail.com |
| Barth | Kyle | C | 2018 | 281-825-6417 | kbarth1996@gmail.com |
| Book | Connor | M | 2018 | 713-447-1231 | cbook_95@icloud.com |
| Holley | Jacob | A | 2019 | (817)-965-3129 | jacobholley@gmail.com |
| Class | Representative | Needed | 2019 | | |
| Tardy | Micah | B. | 2020 | | mbtardy16@tamu.edu |
| Class | Representative | Needed | 2020 | | |
| Dube | Johann | | 2021 | (817) 308-5368 | dubejohann@gmail.com |
| Scott | Caden | | 2021 | (979) 224-3701 | caden.scott77@gmail.com |