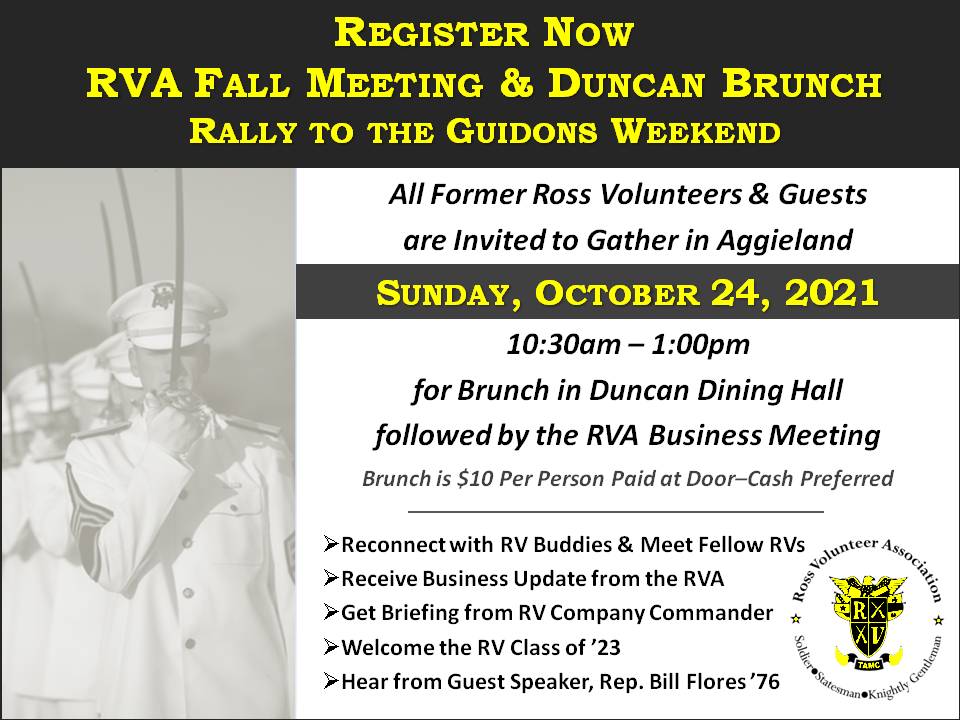 2021 RVA Fall Meeting & Duncan Brunch

Join us for the RVA Fall Meeting in Duncan Dining Hall on Sunday, October 24, 2021, the same weekend as Rally to the Guidons and the Texas A&M vs South Carolina football game! WHOOP!
Brunch is $10 per person paid upon entry to Duncan Dining Hall on the day of the event. Cash payment is preferred. Suggested paid parking in is the University Center Garage adjacent to the Sanders Corps Center.
The RVA Fall Meeting will follow brunch and include updates from RVA President Jim Richards '69 and RV Commander Ty Sanders '22. As a special bonus, former RV and US Rep. Bill Flores '76 will be our featured guest speaker.
Although an RSVP is not required, if you are planning to attend we ask you to register by Thursday, October 14 so we can provide an accurate meal count to Duncan. To register, click on the blue button below. We suggest you quckly review the step-by-step instructions below before beginning the registration process.
Registration Instructions:
1. Click on the blue button to start the registration process.
(You will register by ordering "free" tickets online and adding your name, and the name(s) of your guest(s) to the list of attendees. You will pay the Duncan cashier for your meal(s) at the door.)
2. On the 2021 Fall Event ticket page, click the maroon "add to cart" button.
3. In the quantity box, enter the total number attending in your party.
(Enter 1 if attending solo, enter 2 if you are attending with 1 guest, etc.)
4. Click on the "recalculate cart" button first, then click the "checkout" button.
5. The billing info page should auto-fill. Click the "next step" button to proceed.
6. Review your "order" to make sure it is correct, then click "submit transaction."
7. On the confirm your RSVP page, enter your first and last name as you wish it to appear in the list of attendees. We suggest you add your two digit class year after your last name in the box so that it will appear in the attendee listing. If you are bringing a guest(s), complete the first and last name fields for each, or you may leave it as is and it will appear as "Guest of Your Name" in the attendee listing.
8. Now click the "confirm/update RSVP" button and you are done!
Event Details
When:
10:30AM - 1:00PM Sun 24 Oct 2021 ( Timezone: Central )

Where:
Duncan Dining Hall
777 Military Mall
College Station, TX 77840 USA
[ Get Directions ]
Look Who's Coming:
Mandy (Schubert) Scott '87
David Scott '88
Bradley Hall 88
Paul Watson
Joseph Marshall III
Erin Marshall
Leonard Legge
Bruce Hamilton '78
Cindy Hamilton
Tom Owen
Steven Chapman
John White
Daisy White
Robert Dennis
Sheli Dennis
Dale Lazo
James Prochaska
James Richards*
Cynda Richards
George Stokes
NG Split Diamond Ranch
Robert Jackson
Guest of Robert Jackson
Anthony Best
Jack Carey
Daniel McDonald
Mary McDonald
ken stanton
Martin Holmes
Michael Bonin
Charles Korbell
Kenneth Lynch
Maggie Lynch
Bill Flores
'76
Gina Flores
Ray Grisham
Carol Grisham
Wife
Pat Phillips
TONY WOLFSKILL. 76
ANITA Wolfskill
Van Taylor
Aaron Cichon
'12
James McAdams
Jehri Lawson
Bob Foley
Gerry Foley
Frederick Cherry
Scott Eberhart
Patty Eberhart '76
Rob Washington
Frank Muller
cheryl muller
H. Rektorik
Otway Denny Jr. '71
Robert Pagenkopf
Robert Miller
Mark Johnson
Byron Stebbins
Ann Stebbins
Thomas Morris
Tracie Lawson
Guest of Jehri Lawson
John Patterson
Bill Youngkin
Terry Ekeland
Slater Sauer '87
Jonathan Gumero
JACK Gibbs '63
RETIRED
Georgie Gibbs
Landon Viera
Landon Viera
Michael Whittaker '21
Roland Smith
Roger Schulze '78
Evon Schulze
Chip Smith
Nathan Browning
Caden Scott
Mark Mohr
Renea Mohr
Allen Crowley
Valerie Crowley
Gordon Armstrong
Mohammed Ayesh
Jeffrey Hames
John Pickett '94
Guest of John Pickett '94
Charles DesBordes
D-1 '89
Terrell Mullins
Stephen Weaver
Noel Bradford Jr.
... a total of 93 guests.
Note: to opt out from this list please sign in, go to My Account and change your preferences under My RSVPs.