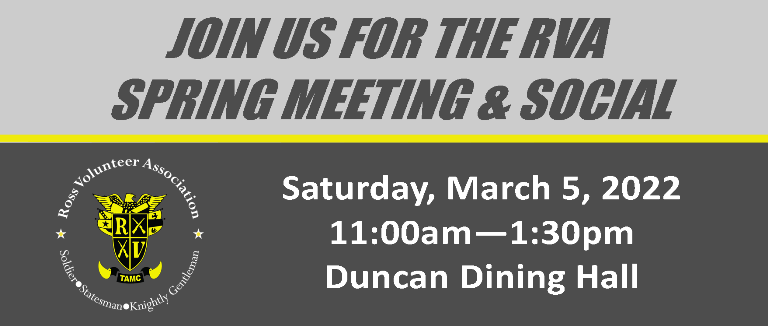 2022 RVA SPRING MEETING & SOCIAL

**TO REGISTER, SCROLL DOWN AND CLICK ON THE BLUE BUTTON**
You won't want to miss this opportunity to reconnect with your RV buddies, visit with current RVs, share a meal, and receive an update on the business and activities of your Ross Volunteer Associaiton. The festivities will "step off" at 11:00am on the Quad in front of Duncan with an RV drill performance! The full event schedule is as follows:

11:00am - RV Drill Performance (meet in front of Duncan)
11:30am - Sign In, Social Time, RV Group Photo
12:00pm - Fajita Lunch
12:30pm - RVA Business Meeting
1:00pm - Book Preview of Sul Ross at Texas A&M by John Adams, Jr. '73
1:15pm - Book Sale & Signing (portion of proceeds to benefit the RVA)
The fajita lunch is complimentary for each RVA member and one guest. Meal cost for additional guests, or former RVs who are not current RVA members, is $15 per person paid in cash or check at the door. Suggested paid parking in is the University Center Garage adjacent to the Sanders Corps Center.
BOOK SALE & SIGNING:
You will have the opportunity to purchase of copy of Sul Ross at Texas A&M at the event for the discounted price of $30.00 (cash or check). You may also purchase the book in advance using a credit card for pick-up at the event. To purchase in advance, click on the blue registration button below, select the book in the listing, add to cart, and complete the payment process. The Texas A&M University Press will generously donate $10 per book sold back to the RVA! John Adams will be available to sign books upon request at the close of the meeting.
ATTENTION - RSVP DEADLINE HAS CHANGED!
If you are planning to attend, please register your RSVP by Thursday, February 24. An RSVP is required to reserve your meal. To register, click on the blue button below. We suggest you quickly review the step-by-step instructions below before beginning the registration process. If you need assistance with registration, email rva@corpsofcadets.org.
Registration Instructions:
1. Click on the blue button to start the registration process.
(You will register by ordering "free" tickets online and adding your name, and the name(s) of your guest(s) to the list of attendees.
2. On the 2022 Spring Event ticket page, click the maroon "add to cart" button.
3. In the quantity box, enter the total number attending in your party.
(Enter 1 if attending solo, enter 2 if you are attending with 1 guest, etc.)
4. Click on the "recalculate cart" button first, then click the "checkout" button.
5. The billing info page should auto-fill. Click the "next step" button to proceed.
6. Review your "order" to make sure it is correct, then click "submit transaction."
7. On the confirm your RSVP page, enter your first and last name as you wish it to appear in the list of attendees. We suggest you add your two digit class year after your last name in the box so that it will appear in the attendee listing. If you are bringing a guest(s), complete the first and last name fields for each, or you may leave it as is and it will appear as "Guest of Your Name" in the attendee listing.
8. Now click the "confirm/update RSVP" button and you are done!
Event Details
When:
11:00AM - 1:30PM Sat 5 Mar 2022, Central timezone

Where:
Duncan Dining Hall
777 Military Mall
College Station, TX 77840 USA
[ Get Directions ]
Look Who's Coming:
Nick Naccarato
Donna Orsatti
William Stanton
Guest of William Stanton
Kenneth Trawick
Guest of Kenneth Trawick Trawick
Jim Richards '69
Cynda Richards
Richard Pfeil
Ray Grisham
Carol Grisham
Wife
George. Stokes
Norma Jean Stokes
NG Split Diamond Ranch
John White
Daisy White
Stephen Weaver
Tony Wolfskill
Bruce Hamilton
Mandy (Schubert) Scott '87
David Scott '88
Leonard Legge
Lynda Legge
John Patterson '62
Guest of John Patterson '62
Bill Youngkin
Guest of Bill Youngkin
Alan Robinson
Anthony Best
Tom Ashy
Guest of Tom Ashy
Ross Epstein
Ross Epstein
Fred M. Blumberg '69
Sue Blumberg
Kevin Troller
RV Class of '79
Byron Stebbins
Ann Stebbins
Morgan Porter
karen ashy
Dave Stauch
Stephen Greenwade
Joseph Ashy****
Guest of Joseph Ashy****
Thomas Morris
Earl Wurzbach
Jehri Lawson '78
Tracie Lawson
Kirk Marchand
John Lane Jr.
John Trosclair
Gordon Loomis
David "Alan" James '90
John Bonn
Frederick Cherry
Scott Eberhart '74
Isabel Blevins
Steve London '79
Paul Watson
Kyle McNeely
Noel Bradford Jr.
Bradley Hall
W. J. Singleton
Kitty Guest of W. J. Singleton Whitted
Bill Wimberly '77
Kenneth Kerr
Slater Sauer '87
John Dickson '64
Robert Foley
Guest of Robert Foley
Will Nees
Dennis Hohman '67
Joseph Marshall III
Steven Chapman
Jack Carey
Margaret Carey
Terrell Mullins
Mason Graham
Joseph Lessard
Michael Whittaker
Guest of Michael Whittaker
Daniel McDonald
Sean McDonald
Kyle Graham
Bill Howell '69Howell
Cindyl Howell
Stephen Smith
James Willbanks
Diana Willbanks
Michael Bonin
Joe Glover '64
Ann Glover
Allen Crowley
Van Taylor
John Dickson
Robert Eoff '83
Larry Marek '83
Charles Kimbrough
Mary Troller
Robert Jackson
Mark Fulton
Doug Beall
Roger Schulze
'78
Evon Schulze
... a total of 107 guests.
Note: to opt out from this list please sign in, go to My Account and change your preferences under My RSVPs.