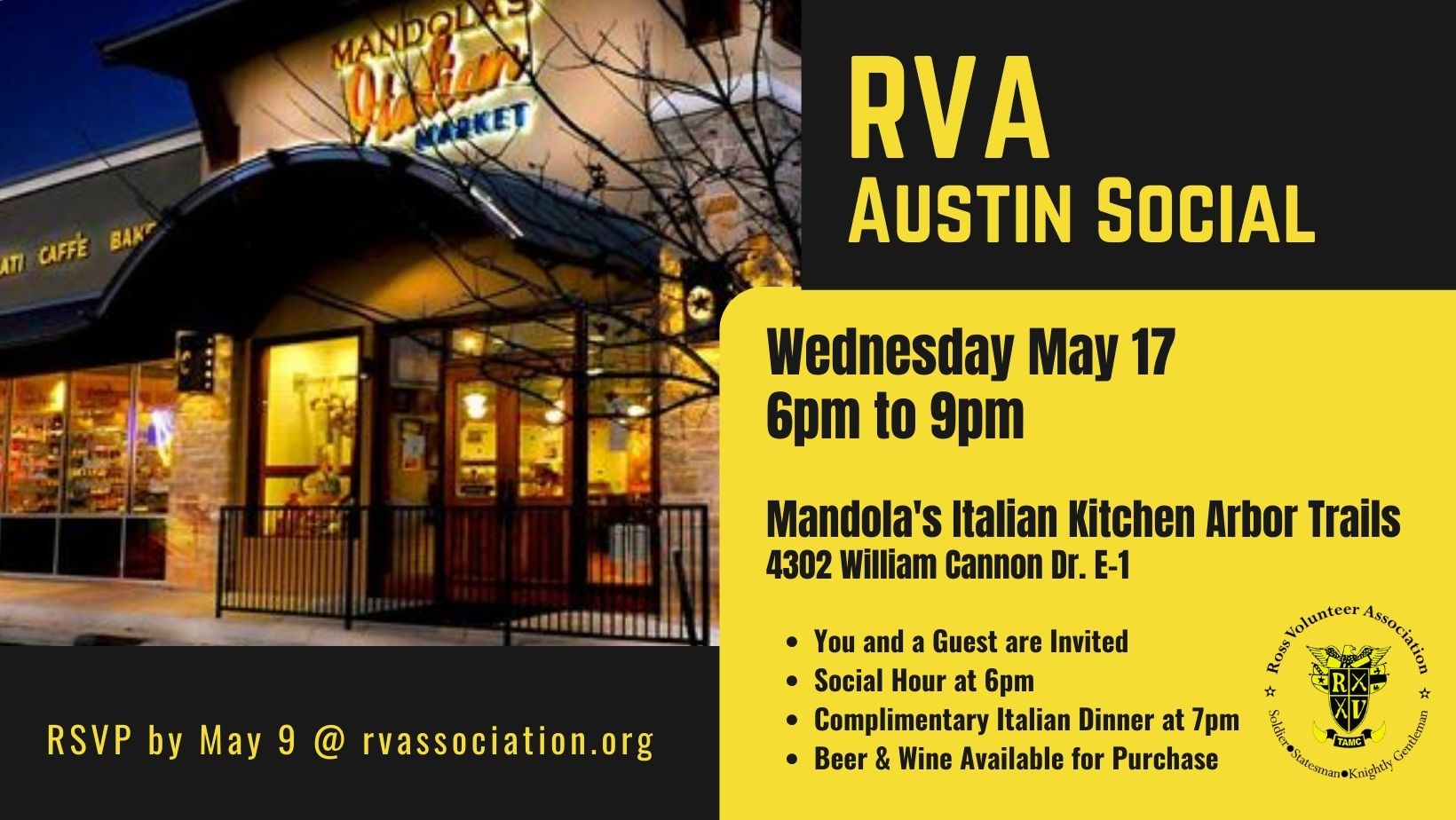 ---
Austin Social Details & Registration
You and a guest are invited to join us for the RVA Austin Social on Wednesday, May 17, 2023 at Mandola's Italian Kitchen - Arbor Trails. We will gather in the private party room at the back of the restaurant. Check-in and social hour will begin at 6:00pm, followed by a complimentary Italian dinner at 7pm. Beer and wine will be available for purchase. The schedule of events appears below:
6:00pm - Doors Open, Check-in, Social Hour
6:50pm - RV Group Photo
7:00pm - Dinner Service Begins
7:40pm - RVA Welcome, Introductions, and Update
8:10pm - Social Time Continues until 9pm
DINNER MENU - Freshly Baked Foccacia & Herbed Olive Oil, Mista Salad, Penne Tomato Cream Sauce, Chicken Picatta, Assorted Cookies, Tea, Water, Coffee.
ATTIRE - Casual / Smart Casual
REGISTRATION REQUIRED TO RESERVE YOUR MEAL(S):
If you plan to join us, please click on the blue button below to register and reserve your meal(s) by Tuesday, May 9, 2023. We suggest you quickly review the step-by-step instructions below before beginning the registration process. If you need assistance with registration, email rva@corpsofcadets.org.
Registration Instructions:
(Please log in to your existing RVA profile/account prior to registering for any event. Your username is the email at which you receive RVA communications. If you have forgotten your password, use the reset password option.)
1. Click on the blue button to start the registration process.
(You will register by ordering "free" tickets online and adding your name, and the name of your guest, if applicable to the list of attendees.
2. On the RVA Austin Social ticket page, click the maroon "add to cart" button.
3. In the quantity box, enter the total number attending in your party.
(Enter 1 if attending solo, enter 2 if you are attending with a guest)
4. Click on the "recalculate cart" button first, then click the "checkout" button.
5. The billing info page should auto-fill. Click the "next step" button to proceed.
6. Review your "order" to make sure it is correct, then click "submit transaction."
7. On the confirm your RSVP page, enter your first and last name as you wish it to appear in the list of attendees. We suggest you add your two digit class year after your last name in the box so that it will appear in the attendee listing. If you are bringing a guest, complete the first and last name fields for your guest, or you may leave it as is and it will appear as "Guest of Your Name" in the attendee listing.
8. Now click the "confirm/update RSVP" button and you are done!
Event Details
When:
6:00PM - 9:00PM Wed 17 May 2023, Central timezone

Where:
Mandola's Italian Kitchen - Arbor Trails
4301 W. William Cannon Drive E-1
Austin, TX 78749 USA
[ Get Directions ]
Look Who's Coming:
Leo O. Mueller, Jr.
Guest of Leo O. Mueller, Jr.
Jim Richards '69
Cynda Richards
Alex Pettitt
Stephen Weaver
Nick Naccarato '70
Alan Robinson
C. Eberhart
Patty Eberhart
Mandy Scott '87
David Scott '88
Damon Holditch '65
Ella Holditch
Abby Williford
Jeffrey Williford
Robert Foley
Noel Bradford
Christine Bradford
Robert Pagenkopf
Catherine D'Abate '11
Dav D'Abate
Ross Hinton
Terry Stanislav
Mark Fulton
Kyle Goldman
Kristy Goldman
Derron Patterson
Angeline Patterson
John McNabb Jr.
Max Cain
Eric Layne
William Dabney
Mike Weynand '72
Thomas Wendel '72
Albert Haegelin '72
Brian Haegelin '02
... a total of 38 guests.
Note: to opt out from this list please sign in, go to My Account and change your preferences under My RSVPs.