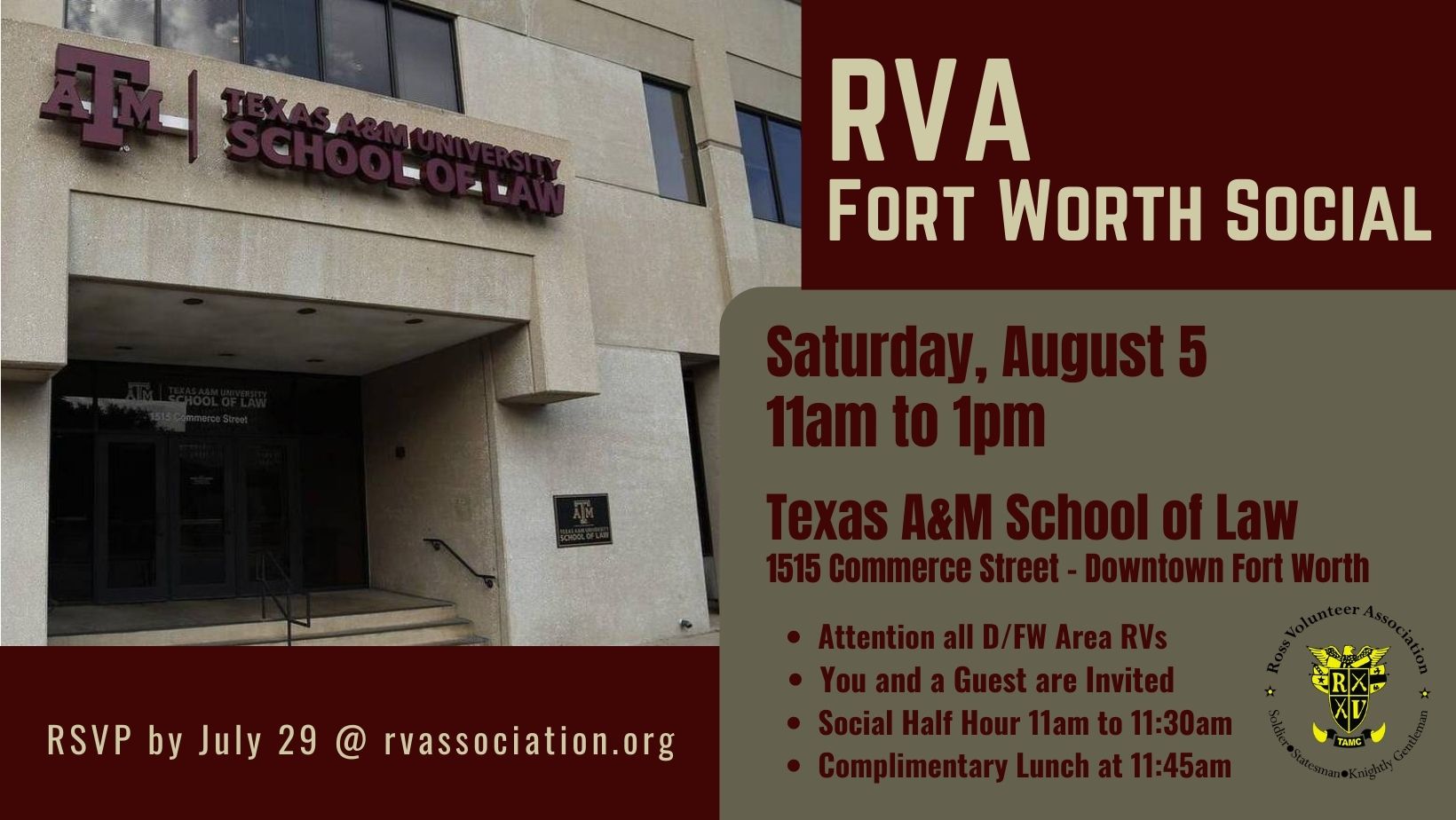 Fort Worth Social Information & Registration
*****REGISTRATION IS NOW CLOSED FOR THIS EVENT AS OUR CATERING MEAL COUNT DUE DATE HAS PASSED. IF YOU WOULD LIKE TO BE PUT ON A WAITLIST IF SPACE BECOMES AVAILABLE DUE TO A CANCELLATION, PLEASE EMAIL rva@corpsofcadets.org WITH YOUR REQUEST . *****
all D/FW area RVs! You and a guest are invited to join us for the RVA Fort Worth Social on Saturday, Autust 5, 2023 at the Texas A&M University School of Law, in downtown Fort Worh, 1515 Commerce Street, 76102. We will gather on the second floor of the building. Check-in will begin at 11am, followed by a complimentary lunch. The schedule of events appears below:
11:00am - Doors Open, Check-in, Social Time
11:40am - RV Group Photo
11:45am - Lunch
12:15pm - RVA Welcome & Introductions
12:30pm - Briefing from TAMU Law School Dean
12:45pm - Social Time Continues until 1pm
PARKING - Free guest parking is available in designated guest spaces in the Law School 'Howdy' parking lot located on Calhoun Street directly behind the school. Coin-operated parking meters (free on weekends) are available on the streets around the perimeter of the building and parking lots.
LUNCH MENU - Blackened chicken, blackened fish, green beans, dirty rice, bread, dessert, tea and water catered by Boo Ray's of New Orleans.
ATTIRE - Casual / Smart Casual
REGISTRATION REQUIRED TO RESERVE YOUR MEAL(S):
If you plan to join us, please click on the blue button below to register and reserve your meal(s) by Saturday, July 29, 2023. We suggest you quickly review the step-by-step instructions below before beginning the registration process. If you need assistance with registration, email rva@corpsofcadets.org.
Registration Instructions:
(Please log in to your existing RVA profile/account prior to registering for any event. Your username is the email at which you receive RVA communications. If you have forgotten your password, use the reset password option.)
1. Click on the blue button to start the registration process.
(You will register by ordering "free" tickets online and adding your name, and the name of your guest, if applicable to the list of attendees.
2. On the RVA Fort Worth Social ticket page, click the maroon "add to cart" button.
3. In the quantity box, enter the total number attending in your party.
(Enter 1 if attending solo, enter 2 if you are attending with a guest)
4. Click on the "recalculate cart" button first, then click the "checkout" button.
5. The billing info page should auto-fill. Click the "next step" button to proceed.
6. Review your "order" to make sure it is correct, then click "submit transaction."
7. On the confirm your RSVP page, enter your first and last name as you wish it to appear in the list of attendees. We suggest you add your two digit class year after your last name in the box so that it will appear in the attendee listing. If you are bringing a guest, complete the first and last name fields for your guest, or you may leave it as is and it will appear as "Guest of Your Name" in the attendee listing.
8. Now click the "confirm/update RSVP" button and you are done!
Event Details
When:
11:00AM - 1:00PM Sat 5 Aug 2023, Central timezone

Where:
Texas A&M University School of Law
1515 Commerce St.
Fort Worth, TX 76102 USA
[ Get Directions ]
Look Who's Coming:
Stephen Weaver
Brian Carter
Robert Foley
Jim Richards* '69
Cynda Richards
Mike McDaniel
Mark Johnson
Laura Johnson
Tim Newman '05
C. Scott Eberhart
William Wimberly III
Noel Bradford '89
Christine Bradford '92
Douglas Fogle
AllisonGuest of Douglas Fogle Fogle
Steven Chapman
Cynthia
Robert Waggoner
Debbie Waggoner
Aggie wife / mom
John Kitowski
Otilie Kitowski
Wife
Beverly Davis
Guest of Beverly Davis
Zachary Greenwade
Stephen Greenwade
Guest of Stephen Greenwade
Connor Privitt '24
Guest of Connor Privitt '24
Joe Gonzales
Guest of Joe Gonzales
Kyle Graham
Colin Lackey
Gary Sauer
Claudia Sauer
John Griffin
Guest of John Griffin
George Marlow
87
Michelle Marlow
John Pickett
Garrett True
'23
Samson Baguma
Guest of Samaon Baguma
Mark Philpot
Michael Stephenson
Guest of Michael Stephenson
Robert Jackson
Ryan Hames
... a total of 51 guests.
Note: to opt out from this list please sign in, go to My Account and change your preferences under My RSVPs.